DURHAM'S STATION / DURHAMVILLE STATION
Built in
1850-1861
/ Demolished in
1884-1900
In tours
This building does not appear in any tours yet.
Last updated
Sun, 02/19/2023 - 2:47pm by SteveR
Comments
Built in
1850-1861
/ Demolished in
1884-1900
This area was part of Orange County until 1881, and the town/city of Durham grew up around the railroad station that was built on four acres of land sold to the railroad by Bartlett Durham in 1854. A train stop may have already been in existence, but a station was likely built soon after the the property was acquired by the railroad.
In mid-late April 1865, at the end of the Civil War, the area around the depot was one location that soldiers of the armies of generals Joseph E. Johnston and William T. Sherman were awaiting the outcome of the surrender being negotiated at the nearby-ish farm/house of James Bennitt (a.k.a. Bennett Place). Local resident John R. Green's tobacco factory was obviously a great temptation and it was looted by the soldiers. However, what appeared at the time to be a disaster soon proved to be a blessing. After the war, when the soldiers returned to their homes, Green began to receive orders from all over the country. He decided it would be well to associate his tobacco with its town of origin and one with which so many soldiers had become acquainted. Consequently, he renamed his product "Durham Smoking Tobacco" and adopted the Durham Bull as his trademark, a symbol that his successors made known around the world.
Hiram Paul describes the (original?/early) passenger station in his 1884 history of Durham:
"Railroad facilities are hardly adequate, only one train a day each way being allowed by the liberal policy of the Richmond and Danville system. The depot is a reproach, there being no reception room for either ladies or gentlemen, and the apartment used as such, and adjoining the ticket office, being so filthy an[d] offensive that ladies never apply for tickets, except in cases of absolute necessity. It is about 12x14 feet, and is used almost continuously by [railroad] section hands as a kitchen and sleeping quarters. The walls are black with soot and grease, and the floor is caked with grease and dirt. It is just to add, that the managers are perhaps not aware of the real condition of things. It is to be hoped, however, that the importance of the city will arouse this mammoth monopoly from its complacent lethargy, and that decent facilities at least will soon been afforded."
Circa 1850 NC railroad survey excerpt, showing the future location of Durham's Station (courtesy David Southern)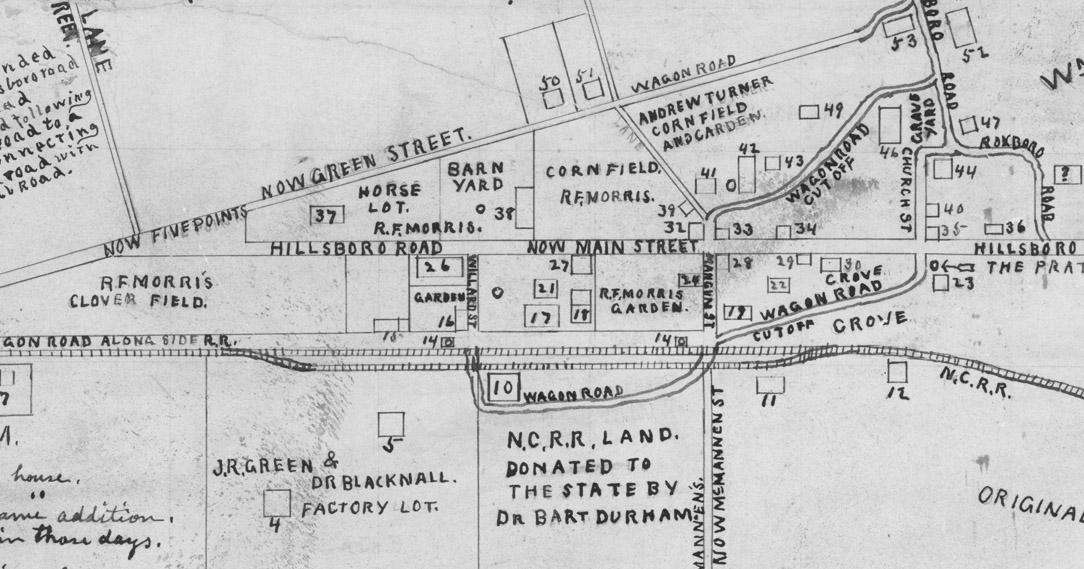 An excerpt of Blount's map of Durham in 1865; #10 is the site of the original railroad depot, #5 is the site of Green's tobacco factory (courtesy the North Carolina Collection at the Durham County Library)